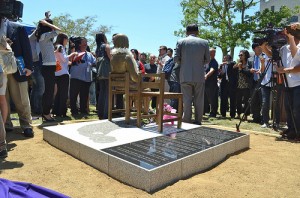 A blog posted in Forbes wonders whether a law firm stooped to a new low when it accepted a lawsuit trying to prove comfort women forced into sexual slavery by the Imperial Japanese Army were really prostitutes (photo by Melissa Wall).
Eamonn Fingleton makes a comparison to the Jewish holocaust arguing no self-respecting US law firm would accept a case challenging the existence of Nazi concentration camps.
But he said one of the top corporate law firms in the country, Mayer Brown, did exactly that in the comfort women case.
The suit suggest a memorial to comfort women erected in Glendale, CA does "irreparable harm" to Japanese Americans, according to Fingleton.
He quotes several attorneys who have been highly critical of the case.
"I cannot remember a lawsuit that so immediately repulsed and enraged…..This lawsuit is thoroughly contemptible. It should fail, and everyone involved should face severe social consequences," said Ken White, a Los Angeles based criminal attorney.
Michiko Shiota Gingery is one of the plaintiffs in the case. She said the memorial simply doesn't belong in the United States and should be in Japan or Korea.
Read Fingleton's blog in Forbes and let us know what you think.