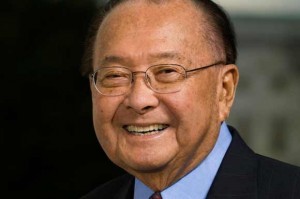 Hawaii Governor Neil Abercrombie is questioning the authenticity of a letter from Daniel Inouye said to be the Senator's dying wish, reports the Washington Post.
The letter believed to be written a half hour before the Senator died requested that Colleen Hanabusa succeed him.
The Governor ignored that request and instead appointed his Lieutenant governor Brian Schatz to finish Inouye's term..
"I received that letter, ostensibly coming from Sen. Inouye himself, a half an hour before he died in Washington, D.C. Literally," Abercrombie said to the Los Angeles Times. "Whether or not this could be construed as Sen. Inouye's dying wish  — let me put it this way  — is problematic."
Abercrombie believes that Inouye did want Hanabusa to succeed him, but questions if the Governor actually dictated the letter.
"I think it was kind of created," Abercrombie said. " I don't dispute for a second it represented his thinking, but it's far from being a dying wish, sent from Washington and signed and sealed … by Sen. Inouye in Washington."