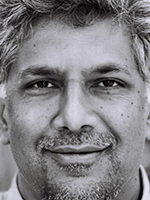 Vijay Seshadri has become the first Asian American ever to win the Pulitzer Prize for poetry, reports Aerogram.
His book 3 Sections was hailed by the Pulitzer Committee as "a compelling collection of poems that examine human consciousness, from birth to dementia, in a voice that is by turns witty and grave, compassionate and remorseless."
According to Livemint, Seshadri currently teaches poetry and non-fiction writing at a liberal art college in New York, Sarah Lawrence.
He came to America from Bangalore at age 5 and grew up in Columbus, Ohio.
He's been published in The American Scholar, The Nation, The New Yorker, The Paris Review, The Yale Review, the Times Book Review, The Philadelphia Inquirer and in many anthologies, including Under 35: The New Generation of American Poets and The Best American Poetry 1997 and 2003.
You can read more about his life in Livemint and his Pulitzer in Aerogram.