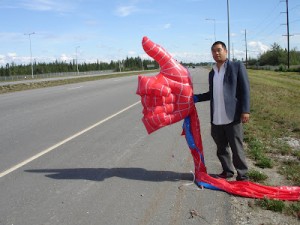 Shock jocks aren't exactly known for their diplomacy and tact (photo from DavidChoe.com).
Artist David Choe did his best imitation of one during his podcast with porn star Asa Akira.
Choe is best known for creating a mural for Mark Zuckerberg in his office at the then little known Facebook.
He also has a portrait of Barack Obama hanging in the White House.
Reappropriate reports that during his podcast, Choe described as "rapey"  a sexual conquest with a masseuse, but added "I am not a rapist."
The conquest which is described in detail on Buzzfeed involved masturbation and  oral copulation.
Choe later said he made it all up.
"If I am guilty of anything, it's bad storytelling in the style of douche," he said in a statement. "Just like many of my paintings are often misinterpreted, the same goes with my show…
"We create stories and tell tales. It's not a news show. It's not a representation of my reality. It's not the place to come for reliable information about me or my life. It's my version of reality, it's art that sometimes offends people. I'm sorry if anyone believed that the stories were fact. They were not!"