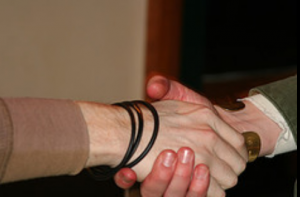 A post from Arab American News published by New American Media offers some insights into the cultural conflicts faced by Muslim Americans (photo by Zach Taylor).
Anyone who's ever been in a situation where you've been part of a minority culture might be able to relate.
Shaking hands with the opposite sex is not permissible for many in the Muslim culture.
In America, shaking hands is a standard way of greeting people.
Some Muslims have decided to adopt the American way. Others have held on to the tradition.
"I've been put in awkward situations myself, I know it can get uncomfortable," said Noha Beydoun of Dearborn, Michigan.
Beydoun finds herself making exceptions. But others have taken the opposite approach.
"I've tried my best to avoid it and I find that people get offended," said Suehaila Amen whose also from Michigan.  "I've had to make a disclaimer where I would say handshaking has to stop. It's been interesting because the Muslim community members have been giving me a headache about it,"
How have you handled similar cultural conflicts you've might have faced?
You can read more detail about the cultural conflict of handshaking for Muslims in New American Media.