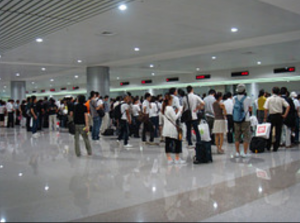 A Vietnamese American man  has been sentenced to death by a jury in Vietnam for drug smuggling, reports Thanh Nien. (photo by Midorisyu)
Jason Dinh  was caught at the Tan Son Nhat International Airport in Ho Chi Minh with over a kilogram of heroin stuffed in his underwear.
Dinh said he was transporting the drugs to pay off a gambling debt. He said he had been gambling with a man named Michael in Las Vegas. Dinh said he lost all his money, so Michael let him borrow $20,000.
Dinh said he agreed to work for Michael to pay off his debt and that it was Michael who gave him the drugs to transport to Australia.
Dinh was arrested immediately before boarding the plane.
You can read more about the tough drug laws in Vietnam in Thanh Nien.