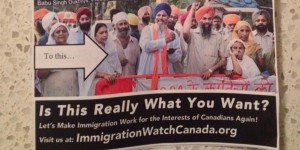 An anti-immigration group in Canada has launched a campaign to limit the number of South Asians allowed to live in the country, reports Mississauga.
Flyers being distributed by Immigration Watch Canada show a group of South Asians wearing turbans under the captions, Is this what you really want?
"We need to celebrate our diversity and celebrate the fact that Canada is first and foremost a country of immigrants," said Jagmeet Singh, a New Democrat member of Parliament.   "We're all immigrants. It's just a question of when, not if, we came."
You can read more reaction to the racist flyer in Mississauga.