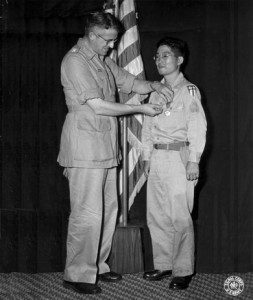 We've heard a lot recently about Japanese Americans who fought so heroically in segregated military units for the United States during World War II.
Much less publicized were Japanese Americans who fought in other units as well.
The Army Times reports that Roy Matsumoto, who was an heroic member of the Merrill Maurauders and who was inducted into the Ranger Hall of Fame, died in his home this week at the age of 100.
He would have been 101 in two weeks.
"Sgt. Matsumoto stood up and exposed himself to enemy fire, while shouting 'Charge' in Japanese as if he were a Japanese officer," Karen Matsumoto wrote in her father's obituary. "Marauders opened fire, and the battalion was saved from certain annihilation with no casualties on our side."
You can read more about his heroics and honors in the Army Times.
Here's also a clip of him below.