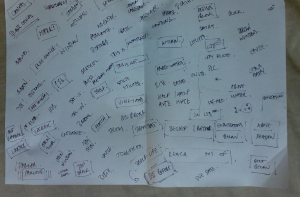 Race remains one of the polarizing issues of our time (photo by banalities)
Discussions about race can lead to greater understanding of what both unites and divides us.
Unfortunately words used during these discussions often lack clarity and can lead to greater misunderstanding .
Dmae Roberts is a biracial writer , performer and producer who was born in Taiwan and raised in Japan.
In her blog for the Asian Reporter, Roberts writes words like chink, coolie, ching chong and Chinese fire drill can have loaded meanings.
While people who use such words may not intend to be racist, in reality they are hurtful. She believes words can be the first sign of racism and advocates that many of these words and phrases should be retired.
Read her thoughts in the Asian Reporter and let us know if you agree.