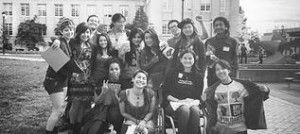 A conference is being held this weekend at the University of Oregon with the goal of uniting the Asian Desi and Pacific Islander communities, reports the Daily Emerald.
The Multicultural Center and Asian Pacific American Student Association are hosting the event.
"For me I kind of struggled with solidarity and this is an opportunity for different cultures to understand the importance of solidarity," Kultura Pilipinas co-director Demiliza Saramosing said.
You can learn more about the conference on the groups website.