Judging just from the trailer, the new web series Millions, which features a predominantly Asian American cast, should be a hit.
Not only does it speak to a generation of millennials and the daily pressures of building a life and a career, it also speaks to their parents who sometimes question the decisions their children make and then struggle to know when to intervene and when to let their children explore their independence.
Writer/director Andrew Chung said he spent his life savings making this project.
"It's been a huge passion project of mine, as I care deeply for the
story, and about putting more Asian North American faces on screen."
Check out the trailer below from You Tube and then read our Q & A with Chung.
Season 1 debuts Monday on You Tube at 8pm Eastern/5 Pacific.

What is Millions?
MILLIONS is a web series about a group of friends in their twenties who set out to become millionaires before they turn 30 after experiencing a tragedy in their lives. Thematically it's about the financial pressures today's millennial generation is bombarded with from pop culture, their peers, and at home. I wanted to explore how the advent of rich young tech-billionaires, social media, and reality television has effected today's youth. But rather than tackling these ideas head on, the story is more particularly about the consequences – what young people end up valuing and doing to attain the mostly unachievable goal of getting rich at a young age.
Will Millions make you millions? Do you see any parallels between the show and your life?
That'd be nice, but it's certainly not the goal! I do see the parallels in my life however. Like the characters in the series, in my twenties I was misled toward a goal of wealth, betraying my true passions. The characters just betray a lot more – their values and morals – in order to get rich quick.
Why are you so passionate about this?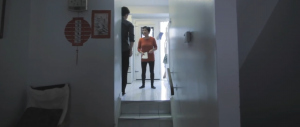 I'm very passionate about this project, because I believe in the story. I think the youth and wealth-obsessed society we currently live in has profoundly effected what millennials value. They grow a deep sense of entitlement, and develop unrealistic expectations that they can all become rich and famous one day for almost essentially doing nothing (I.E. the Kardashians, people famous off Instagram, etc.). I also feel strongly about the underrepresentation and misrepresentation of Asian Americans in entertainment, so it's personally important to me to tell a story about a diverse group of Asian Americans, that has nothing to do with being Asian American. I wanted to show audiences who we are, and not why we're here.
What would you like people to take away from this?
First and foremost, I hope many people in their twenties can relate to the experiences that the characters go through. For everyone else, I hope the story gives them insight on what young people face today, and the difficulties of growing up as a responsible adult when bombarded with images of success in the media and the pressures from peers and at home. I also hope people are introduced to the diverse amount of personalities Asian Americans can actually have by getting emotionally invested into a diverse group of Asian American characters.
Is this a story unique to Asian Americans or a show with an Asian American cast?
This is most definitely a show with an Asian American cast. I set out to tell a story with Asian Americans in them, not about being Asian American. There have been plenty of stories out there already about being Asian American, and I strongly feel in order to shatter stereotypes, we need to just tell stories where we simply live, and not why we live here.
How did casting this with Asian Americans make this story different from say regular Hollywood casting that wouldn't necessarily include many Asian Americans?
The only difference in story with casting Asian Americans were the cultural references (I.E food, pop culture icons, etc.). Their culture was merely a backdrop to the story, it did not change the story.
Is there anything you'd like to add?
I just wanted to urge everyone to spread the word on MILLIONS if they enjoyed it. For a series like this to continue we NEED online audience support. We're just a group of passionate independent artists with no public funding or private investment, or marketing or distribution backing. We're a grassroots project and do everything ourselves without a machine behind us. We just want to tell a good story. So tell people about the series on your social media or send them the episode links. And subscribe, follow, and like all of our social media. Every person counts, and makes it that much more likely that we can make a second season and more. Visit us at http://MillionsTheSeries.com for more information!