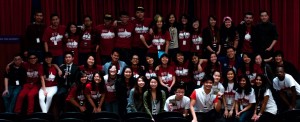 It's been said that only by knowing your past can you lay out plans for the future (photo from Facebook).
With that in mind, 500 students gathered at the Kimmel Center for University Life in New York this weekend for the eighth annual New York City Asian American Students Conference, reports Washington Square News.
The theme of this year's conference was roots.
"This year's conference is designed to remind attendees of our roots through examining our past and current struggles in order to prepare ourselves as students, organizers and budding activists to educate and promote further community action in ways that are meaningful to ourselves and to others," Seid said.
The conference featured workshops on feminism, religion, LGBTQ rights and music in Asian-American culture.
A well known Asian American rapper wrapped up the conference with a performance. You can read about that plus reaction from students in Washington Square News.