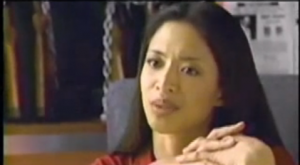 Actress Chuti Tiu is tired of being offered the same stereotypical roles so many other Asian American actresses are offered.

So she did something about it, according to Color Magazine, she decided to write a script for herself as a modern Asian American woman.

The result is Pretty Rosebud, a film which has already received numerous accolades including multiple awards at the Idlyyllwild International Film Festival for Best Screenplay, Best Film, Best Actress, Best Director, and Best Cinematography.

You can check out the trailer below.



"I should be clear that although the film was inspired by experiences I have been through, it's not an autobiography," Tui explained with a laugh. "That's one of the great things about the film, for me. Even though it's a specific story about one woman's life, there's a universality about her story that audiences are identifying with. A lot of the scenes in the movie take place around meals, for example, which to me is a very Filipino thing; we eat when we talk. But the same thing happens in other cultures, too. Italian people gather around a meal to discuss family problems the same way we do."

You can read more about her frustrations with the role available in Hollywood and about Pretty Rosebud in Color Magazine.

You can check out more of her work below.