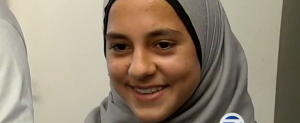 State investigators in California are being asked to determine if a ban on scarves on amusement park rides is an issue of religious freedom or safety, reports ABC7/KGO.
Boomers in Livermore, California refused to sell 13-year-old Noorah Abdo a ticket to ride a go-kart because she wouldn't remove her scarf.
"I don't want them to feel like they can keep on denying us access," she said. "I want them to feel that they're wrong and the impact it's had on all of us, and I want them to know how we feel so it can change their policy."
Boomers parent company Palace Entertainment said "Safety is our number one priority. This is not a matter of race or religion. This is a matter of safety."
You can see reaction to this controversy in the clip below.