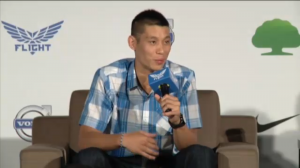 Arguably the two biggest Asian Americans in the NBA have joined countless others in condemning Los Angeles Clipper owner Donald Sterling for his racist comments.
Vivek Ranadive, the first and only Indian American and Asian American owner in the NBA, predicted the league's owners will vote unanimously to force Sterling to sell the Clippers, reported NDTV.
"The owners are amazing people-they're colorblind – and I fully expect a unanimous vote," the owner of the Sacramento King told ESPN.
You can watch Ranadive's interview about this topic on Good Morning America.
Jeremy Lin also commented on the controversy, having experienced the sting of racism throughout his basketball career.
"I was definitely shocked," Lin said to the Ultimate Rocket. "But I have kind of gone through Linsanity and hearing and seeing things people said. I guess I wish it wasn't like that but I am not oblivious to some of the ridiculousness that is out there and I have been exposed to some of it. I am all for heading in the right direction and I think that's where we are. Out of that negative comes a strong and positive statement."
A recent poll from CBS News and reported in the New York Times shows Sterling's widely publicized comments and racist attitudes is not unique to America.
40% believe whites are more hardworking than blacks and 45% of those polled believe blacks don't have the motivation and willpower to pull themselves out of poverty.