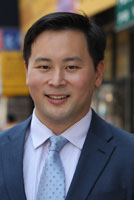 By Ernabel Demillo
New York Assemblyman Ron Kim , who represents District 40 in New York City, has one of the busiest offices for an elected official.
"We get anywhere from 50 to 150 constituents every single day, on average," he said in a recent interview. "Last year we had 11,000, it's up to 14,000 constituents that we have served."
And that is a record. Not bad for an elected official who also happens to be the first Korean American elected to New York state legislature.
Kim is part of a record breaking wave of Asian Americans who ran and were elected into public office nationwide in 2012.   Kim's predecessor, Grace Meng, was also among this group. Meng became the first Asian American to represent New York in Congress. According to the Asian Pacific American Institute for Congressional Studies there were a total of 36 candidates of Asian descent for Congress in 2012 — that's double the number from a record set just two years prior in 2010.
Six of these candidates won their races, resulting in the largest caucus of Asian Americans in a single congressional session.
According to political experts, the number of Asian breaking the political glass ceiling isn't surprising. Asian American are the fastest growing minority group in the country, according to the U.S. Census, the Asian population grew almost 50 percent between 2000 and 2010.
Along with winning more Congressional seats, Asian Americans also won a number of local offices across the country, from California, Hawaii, Illinois and New York.
For more on Ron Kim's story and a closer look at the impact Asian Americans are having on the nation's political scene watch this month's episode of CUNY-TV's ASIAN AMERICAN LIFE.
In recognition of Asian American Pacific Heritage Month in May, CUNY TV's ASIAN AMERICAN LIFE series presents several stories about influential Asian Americans making important contributions to America. The show is hosted by Ernabel Demillo from The Brooklyn Botanic Gardens.
Along with Assemblyman Ron Kim, other leaders featured in the program include:   Sayu Bhojwani, as Founder and Director of the New American Leaders Project, is dedicated to training the next generation of leaders, talking about the immigrant story and how its values can be part of public service.
Reporter Paul Lin interviews lawyer and author Helen Wan about her new book, The Partner Track, focusing on the ascent of a woman "of color" in a major law firm, and Clara J. Ohr, Assistant General Counsel for Hess Corporation and President-Elect of the Asian American Bar Association of New York (AABANY), who, along with Yang Chen, AABANY's Executive Director, are mentoring Asian American attorneys breaking through the "Bamboo Ceiling" at corporate law firms. Also featured is Ona T. Wang, the first minority Partner at law firm BakerHostetler (New York) after just four years as an Associate at another firm.
Host Ernabel Demillo then meets with Sree Sreenivasan, a journalist, social media guru, and the Metropolitan Museum of Art's Chief Digital Officer, who tells her the story of his international upbringing and the joys of using social media in innovative ways.
And AIDS researcher Dr. David Ho talks with reporter Kyung Yoon about his latest research and illustrious career, one that includes the "triple cocktail" drug therapy that saved millions of lives worldwide and earned him Time magazine's honored Man of the Year cover in 1996.