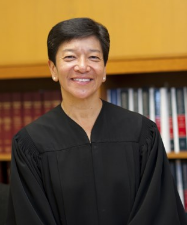 We have two historic firsts to report.
Mary Yu has become the first Asian American and the first gay member of the Washington State Supreme Court, reports the Seattle PI.
Yu 's father is from China and her mother is from Mexico.
She performed the first same sex marriage in the state in December 2012.
Then Governor Gary Locke appointed her to the King County Superior Court bench in 2000.
She was appointed by Governor Jay Inslee to replace retiring State Supreme Court Justice Jim Johnson.
"Trial court judges, at every level of the court, are the work horses of our system of justice," Yu said.  "I am proud to come from their ranks and will do all that I can to remember that a trial court remains the place where the law is actually applied to everyday life."
She will be sworn in later this month, but must run for election in the fall.
In Illinois, Manish Shah has become the first South Asian American Federal Judge after being confirmed by the US Senate, reports Silicon India.
Shad has served as head of the criminal division for the US Attorneys office in Chicago.
"Shah's confirmation as the first South Asian American federal judge in Illinois represents another significant milestone for our community. We look forward to his service on the bench and applaud the President and the U.S. Senate for nominating and confirming him," said Tejas Shah, President of Indian American Bar Association.

You can learn more about Shah in the video clip below.