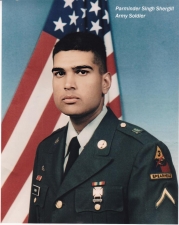 Four months after the police shooting death of a military veteran in the Central California town of Lodi, the hurt still runs deep in the Sikh community.
A meeting between concerned members friends, family and community leaders and Lodi Police Chief Mark Helms failed to heal any wounds, reports the Sacramento Bee.
"I've lost faith," said nephew Aman Sohota. "They keep telling us that they are going to release information, but they don't do it. I think the process is corrupt. I think the DA is going to somehow end up justifying this."
Parminder Singh Shergill was shot and killed on January 25 when police say he charged at them with a knife, but other witnesses contradict that account.
Helms suggested Shergill was troubled and had a violent history.
"You know, I have two very, very good police officers that are having a lot of trouble with this," Chief Mark Helms said in an audio recording of the meeting that The Sacramento Bee obtained from a source. "And nobody's thinking about them, either."
The meeting was closed to the public, but The Sacramento Bee obtained a secret recording of the meeting.
It will be up to the DA to decide if any laws were broken.