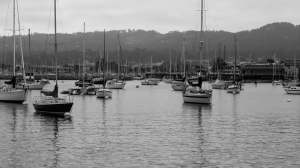 The contribution Japanese American's played in building Cannery Row and to California's fishing industry will be honored today at Monterey's Old Fisherman's Wharf, reports the San Francisco Chronicle (photo by April).
The first ever Japanese American Heritage Days will be held on the Wharf today and tomorrow from 11 to 5pm. Admission is free.
Japanese immigrants made diving for abalone much safer when they introduced diving in wool suits and bulky helmets.
They also developed the technique of separating the abalone's flesh from its shell.
In addition they were also a big part of salmon and sardine fishing on Monterey Bay and ran many canneries on Cannery Row.
Japanese Americans flourished in the area until they were forced to abandon their homes due to their ordered incarcerations during World War II.
You can read about what's on tap for Japanese American Heritage Days plus how John Steinbeck became an advocate for Japanese Americans in the San Francisco Chronicle.