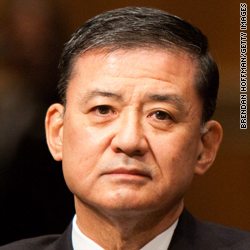 CNN is reporting that two veteran groups are calling for the resignation of General Eric Shinseki as Secretary of Veteran Affairs.
The demand follows reports of long wait times for care and veterans dying as they wait.
"It's not something we do lightly. But we do so today because it is our responsibility as advocate for the men and women who have worn this nation's uniform," said Daniel M. Dellinger of the American Legion.
Also joining the call for the General to step down was the Concerned Veterans of America.
"We're proud to stand with The American Legion as they take this courageous and historic stand, said Pete Hegseth, the group's CEO. "As America's largest veterans organization, their moral authority on this issue is unimpeachable. We applaud their demands for accountability at the very top of the Department of Veterans Affairs."
But the White House is rejecting the demands saying "The President remains confident in Secretary Shinseki's ability to lead the department."
You can hear more about the allegations being directed at the VA in the report from CNN below.