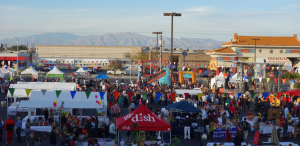 Las Vegas health inspectors have shut down a number of Chinatown restaurants in the last five to six weeks, reports KTNV (photo by Kennejima)
Sam Woo BBQ shut down April 22 with some 51 health violations, according to the TV station.
Violations include food being stored at unsafe temperatures, a lack of hand washing, dirty appliances and heavy grease buildup.
Managers at the restaurant declined to comment.
Three other restaurants including a food truck were also shut down.
All but one have reopened after correcting the violations.
That includes Sam Woo which is back open with an "A" grade.
Hopefully there's an education component to the health department's enforcement actions as well, along with bilingual literature and health workers so that the facilities fully understand what they are being accused of doing.
You can watch video of some of the conditions at these restaurants from KTNV below.