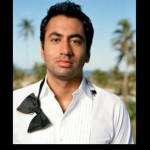 Two steps forward, two steps back.
The latest news is mixed on efforts to increase the diversity of Asian Americans on television.
Kal Penn (seen left) will co-star on Battle Creek on CBS, reports E Online. The detective drama takes place on what the show describes as the "semi-mean streets" of Battle Creek, Michigan.
Battle Creek stars Josh Duhamel and Dean Winters as two detectives with opposing personalities who are teamed up to clean up the city.
CBS also announced it will air Stalker with actress Maggie Q(pictured right). It is described as a psychological thriller
based in Los Angeles. After four years starring in the cult hit Nikita on the low rated CW network, Q will get some major exposure on the number one network in prime time.
Once again this kick ass actress will get to put her fighting skills on display chasing down some of the most vile criminals on the planet.
On the negative side, E! also reports that Neighbors starring Tim Jo(pictured left) as a young alien with a good eye for the girls will not return to ABC.
It's particular unfortunate since its so rare to see Asian American men involved in any romantic relationships on TV or the movies.
Also cancelled by ABC is the Trophy Wife which featured cute little Albert Tsai(pictured right)
as Bert Harrison, an adopted child from China.
No announcement has been made about Fresh Off the Boat, a show based on the memoirs of celebrity chef Eddie Huang. This would be the first Asian American family comedy in 20 years. (UPDATE: ABC to air Fresh off the Boat)
The show will star Hudson Yang (pictured left) as little Eddie. Like everyone else, he's anxiously awaiting ABC's decision. He talked to Angry Asian Man about his anticipation and his brief acting career.