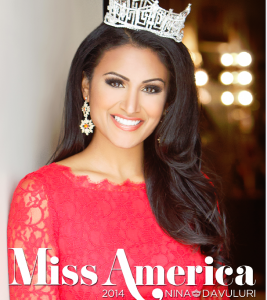 Miss America Nina Davuluri is entering the last few months of her reign.  She has been touring college campuses across the US and is currently on a promotional tour on behalf of  Macy's as part of its Celebrates Asian Pacific American Heritage Month program.
Nina will appear at the Macy's Queen's Center in Elmhurst, NY on May 24, Macy's Union Square in San Francisco May 28, and Macy's First Colony in Sugarland, TX on May 31.
She agreed to answer a few questions from AsAmNews.
Nina, you are nearing the home stretch of your reign as Miss America. What has been the highlight so far?
Oh my goodness! Where to even begin? It's difficult to condense the past eight months into a few sentences, but I will touch on some highlights! During my reign, I've had the opportunity to speak with roughly 25 colleges and universities about my platform, "Celebrating Diversity through Cultural Competency."
I've also been able to work with the White House on their Initiative on Asian Americans and Pacific Islanders, and even meet with the President and First Lady. Furthermore, I serve as the national goodwill ambassador for Children's Miracle Network Hospital, and also promote women in STEM Education.
Spreading my platform has been the most important initiative for my year, but I've also been able to do fun events like attend the Kentucky Derby, Superbowl, and IIFA Awards to name a few. It's been quite a whirlwind of a tour to say the least!
What does it mean to you to be the first Indian American crowned Miss America?
Miss America has always been viewed as the "girl next door." I grew up feeling like I could never be in this role because I didn't look like the "stereotypical" Miss America. My goal for this organization was to reach out to a new demographic of young women that is representative of America today. It was really about reaching out to that young girl who was watching the competition the night I won and for her to finally be able to say, "Wow, this year Miss America looks like me. And I don't have to fit a stereotype or mold to be successful."
What has the reaction been from the Indian American and South Asian American community as well as the larger Asian American community?
It's been incredibly heartwarming–especially when I meet with younger girls. It's such an honor to be an attainable role model for them.
You ran on a platform of diversity. To what extent have you succeeded in advancing your goals?
More than I could have imagined. That's not to say I didn't have high hopes, but I really feel with my college/university speaking tour, I've been able to target the core demographic I wanted to reach with having this title.
You came off the high of being crowned Miss America, followed by some of the racist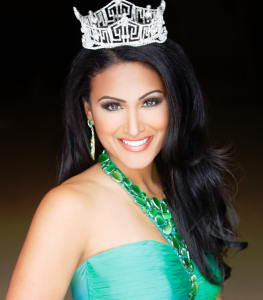 reaction to your special night on Twitter and social media. How were you able to overcome this?
I seized it as an opportunity to take the negative and create a positive discussion. By launching my national campaign, Circles Of Unity, my goal was to create civil discourse about cultural awareness via social media.
Where do you go from here and do you see yourself furthering your platform of diversity through other means?
After my year of service, I will be applying to MBA programs for the Fall of 2015. As Miss America, I have $62,000 in scholarship money to pursue my graduate degree. And yes, even after this year, I will be continuing my speaking tour on my platform.
Lucy Edwards, an Indian American, was just crowned Miss Vermont. How would it be to have two Indian American Miss Americas in a row?
Pretty cool! The message I want to send is to stay true to yourself. You don't' have to fit a stereotype or mold, moreover, regardless of your background, ethnicity, or socioeconomic status we all have the opportunity to achieve our dreams and aspirations so long as we are willing to work hard in pursuit of them–essentially, that's the American Dream!
Is there anything you'd like to add?
A genuine, heartfelt thank you to everyone for their love and support. It's been an honor to represent all of you this year.