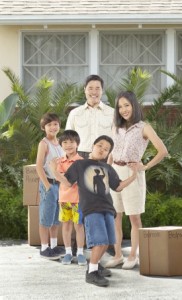 ABC has released its trailer for its new show based on Eddie Huang's memoir, Fresh Off the Boat.
And here's the surprising news, ABC has apparently decided to keep the name, Fresh Off the Boat and not change it to Far East Orlando. The decision on the name follows a backlash on social media when word leaked out that Far East Orlando was being considered.
That's the second straight good decision ABC has made. The first of course was picking up the series by Nahnatchka Khan. Unfortunately I just learned that FOB is scheduled to be a mid-season replacement. So we'll have to wait a bit longer to see this. (earlier version of this story reported Fresh Off the Boat was on the fall schedule)
The series stars Hudson Yang, Randall Park and Constance Wu.
You can check out the trailer below. I can hardly wait for the show's debut.