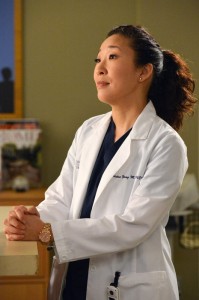 One of the most identifiable characters on Grey's Anatomy is saying her final goodbye tonight.
After 10 seasons playing the cocky and sometimes cold character on the popular hospital drama, Sandra Oh is making her exit as Cristina Yang.
She tells TV Guide "I just feel much more present with it.  There are some times where you take it for granted that you're going to have another OR scene, but you never know. The days that are just so fun and wonderful, it's like I could do this forever. And then there are certain things where I feel like I have to grow. The feeling is sad and happy and everything in between. I can't even put it into words. But mostly it's about being present and enjoying it and being grateful for every moment."
Ironically the part of Cristina wasn't the part she originally was called to audition.  But the part didn't resonate with her, so she talked her way into being Cristina. It was an audition that almost didn't happen, because her agent couldn't reach an agreement with the show.
"I hadn't auditioned yet and I get a call from my manager," Oh says. "She said, 'You've got to go. Leave the audition. You need to leave.' As it happens in deals, a lot of times you have to sign a deal before you audition. It's very stressful and very, very difficult. They weren't able to close a deal, so they told me to leave."
Fortunately it worked out for everyone in the end, including the fans of Grey's Anatomy.
You can read a lot more about Oh's thoughts about the show and her goodbye in TV Guide.