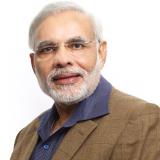 It's apparent Narendra Modi will be India's next prime minister.
 Quartz reports his BJP (Bharatiya Janata Party) dominated India's national elections, winning 280 seats in Parliament.
  The Indian National Congress was next with just 47 seats.
 That kind of dominance is unheard of in US politics. It'll be interesting to see what Modi does with that mandate.
 It'll be also be interesting to see how the Obama Administration reacts to this election. Modi is banned from coming to the US. It's a ban that has been in place since 2005 in protest of his role in the 2002 Massacre of Muslims in Gujarat.
 How will this affect US-Indian relations which is already strained over the arrest of an Indian diplomat in New York, Devyani Khobragade?
 Will the Obama administration be forced to rescind the ban on giving Modi a visa to travel to the US? How can you even pretend to have relations with a country when its leader is banned from entering yours?
 These are questions that the White House will be forced to answer in the days, weeks and months to come.