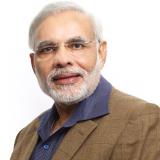 The BJP party is expected to vote May 20 to elect Narendra Modi as India's new Prime Minister.
The Bharatiya Janati Party swept into a super majority winning 280 seats in Parliament in the Indian elections.
"The Indian Diasporas and friends of India in the United States and across the world cheer and send our best of wishes to the people of India, and the leadership of Mr. Narendra Modi," said Sanjay Puri, Chairman of the US India Political Action Committee (USINPAC). in remarks published in Business Line.
But South Asian American community leader Deepa Iyer, in her blog, repeated a warning from the Tom Lantos Human Rights Commission, which said a BJP victory would be "be detrimental to religious freedom" in India.
She urged Indian Americans to "monitor and call out xenophobic and divisive remarks and policies that alienate or demonize communities based on their faith, caste, or political affiliation."
Modi is currently banned from coming to the United States and prevented from getting a visa because of his alleged role in the riots of Gujarat between Muslims and Hindus in 2002.
Noted journalist Zareed Zakaria in the Washington Post called for the ban to be lifted, saying leaders from countries considered even more detrimental to religious freedom are welcomed at the White House.
What are your thoughts on this?