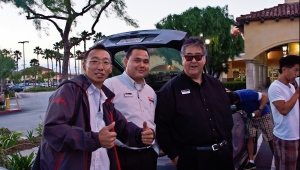 Torrance 20 miles from Los Angeles is home to the largest population of Japanese Americans outside of Hawaii I(photo by moto@club4ag).
For 30 years, it has also been home of Toyota which recently announced its moving its 3,000 jobs to Texas.
According to PRI, Japanese immigrants moved here because it was one of the few places that leased land to non-US citizens in Southern California.
After Toyota moved to Torrance, it became a magnet for other Japanese corporations.
Toyota gave Japanese Americans an opportunity after they returned from the incarceration camps.
"It was very difficult for them to overcome the image of post-war Japan trying to sell something to the United States," said Bruce Kaji. He was hired as Toyota's first US-based accountant.
"All of us who were interned at Minidoka, at Manzanar, we had no money. The government didn't provide us with any money to reestablish ourselves. We came back with just bus fare," Bruce says. "We were broke."
You can listen to more about Toyota's impact on the Japanese American community in Torrance and fears about it leaving in the clip below from PRI.