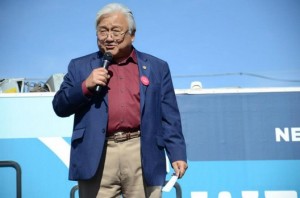 The momentum is turning against 7 time incumbent Rep Mike Honda of San Jose.
Yet with the primary still weeks away, his supporters says his long term relationships will keep him in office, according to the Contra Costa Times.
Every major newspaper in the San Francisco Bay Area has endorsed his opponent, Ro Khanna.
Khanna also has the support and financial backing of  many of Silicon Valley's top business executives.
"A lot of the valley has been kind of torn — they think Mike Honda is a nice guy and has represented the district for a long time, but nonetheless think Ro Khanna might be a better fit," said Jim Cottrill, an expert on Congress from Santa Clara University.  "I think it's been a slow building of momentum for Ro Khanna's campaign."
Under California's open primary, the top two candidates will advance to the general election regardless of party.
Khanna, who like Honda is a democrat, is counting on his relative youth, 37,  and background in technolgy as an entrepreneur, will be enough to overcome the loyalty Honda has built up over his 7 terms.
Asian Americans now make up 51 percent of Honda's district, but is much different from when Honda first took office.
The Indian American population has more than quadrupled and make up 15 percent of the district. Many are anxious to see one of their own represent them in Congress.
"Asian-American politics is a lot different than other ethno-American politics," said Melissa Michelson, a political science professor at Menlo College in Atherton. "It's a much weaker pan-ethnicity because there are so many different languages, different religions. There's not as much of a sense of linked fate as we see in other ethnic communities."
You can read more about the advantages each of the candidates has in the Contra Costa Times.