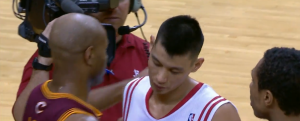 It's a shame after four seasons in the NBA, Jeremy Lin still has to deal with racism.
I guess it's something we all have to deal with regardless of how famous we get or how much money we make.
He recently received a racially tinged hateful tweet and handled it with assertiveness and class.
That's a tough thing to do, but Lin managed to pull it off.
"@Khouring: @JLin7 GO BACK TO HONG KONG N*GGA U CHINESE PEOPLE RUIN AMERICA" this is wrong on so many levels…

— Jeremy Lin (@JLin7) May 19, 2014
@JLin7 @Khouring another Donald Sterling….

— linspiredinca (@linspiredinca) May 19, 2014