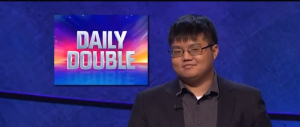 It didn't take long.
Just a little over two months after Jeopardy champ Arthur Chu catapulted into the top 3 of Jeopardy all time wins list with 11 straight victories, someone has come along to tie his consecutive streak, reports CNN.
Julia Collins has stopped to pay the Chu Chu Train a visit with her win last night.
Tonight she hopes to chug right bu Arthur with her 12th straight victory.
Arthur already is looking forward to a face off with Julia in the Tournament of Champions.
Okay well now it's official #War #JuliaVsChulia #SeeYouAtToC2014

— Arthur Chu (@arthur_affect) May 19, 2014
I thought I'd be too busy to watch @Jeopardy tonight but if @JeopardyJulia's gonna be trying to tie me then I have to see what happens — Arthur Chu (@arthur_affect) May 19, 2014
Unlike Arthur's aggressive strategy of keeping his opponents off balance by playing all over the board in search of the daily doubles, Julia's strategy is more straight forward.
"I think I'm lucky to have a good memory, and I think I've trained that part of my brain to work as well as possible," she said.
Her winnings so far total $220,610, that's much less than the nearly $300,000 Arthur won during his reign.
Julia is the longest-running women's champion in the show's history and within a few thousand dollars of cracking the top 5 in total winnings.
You can hear her talk about her strategy in the clip below from CNN.