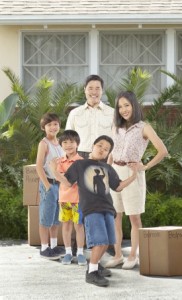 Netizens in China are chiming in on what some consider the controversial name of the ABC comedy based on celebrity chef Eddie Huang's memoir, Fresh Off the Boat.
In a blog in the China Daily, one person is quoted as saying on the Chinese site mitbbs.com "I like the title Fresh Off the Boat. I don't think the phrase is offensive to new immigrants even though nowadays new immigrants are 'fresh off the plane' instead of 'boat.' Not using the phrase doesn't mean the phrase or the common psychic behind the phrase doesn't exist in real life."
The poster's sentiments were echoed by Chunyan Li, a professor from Pace University in New York who took an active role in the protest against Jimmy Kimmel's kill everyone in China remarks last year. Li believes the controversy is a superficial one.
"The deeper message of fighting for our own place is there. Isn't it cool that we can watch our own Asian American comedy on a mainstream TV network like ABC?" she said.
You can read the entire blog on China Daily.