Text & Photos by Ariel Neidermeir  
 Tanauan is a small coastal city just south of Tacloban. It also suffered severe damage from Typhoon Yolanda, known internationally as Typhoon Haiyan. The storm left 1,252 people dead, which is close to 3 percent of the city's population.
I have a family friend who lives in Tanauan and works for a charity based in Tacloban called the Center for the Development of Sustainable Communities for Social Progress (CDSCP). My friend Pol is the Center Director at CDSCP, which works with international organizations to deploy relief supplies to the local communities in Tacloban. The Center's flagship project is a feeding program that distributes food relief to barangays in Tacloban. CDSCP works in partnership with Kids International Ministries (KIM), an organization based in Manila.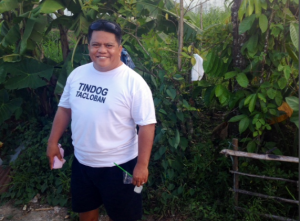 KIM provides the food resources and CDSCP cooks and distributes the food to local communities in Tacloban.
I was able to go with Pol and his team to a feeding event before I left Tacloban. Pol is a jovial Filipino man who can laugh at just about anything. As we drove to Barangay 103, also known as Panalog, for the event, he grinned and pointed to a home crushed by a massive, uprooted tree and said, "Yolanda made the tree tired so it laid down and fell asleep on that house." His jokes made light of destruction that I've felt the emotional weight of for the last two months. In a way, his humor was comforting.
When we reached Barangay Panalog, children immediately started lining up with bowls and cups to be filled with food. We unloaded three huge containers from the back of our van and began ladling porridge to each child. The porridge is rich in protein and includes meat, carrots and lentils. The line of children expanded as the kids spread the word about the feeding. Kids came back for seconds and we happily dished them more.
The program's goal is to reduce malnutrition in the children affected by the typhoon. CDSCP and KIM began the program five days after the storm when the people of Tacloban were still struggling to find enough food and water to survive.
  CDSCP would hold feedings in 2 to 3 barangays a day, and distribute 15 pots of the protein-rich stew. One pot can feed about 100 children so they fed approximately 1,500 kids in the months following the typhoon.
Today, CDSCP only holds feedings a couple times a month. The need is not as strong but the malnutrition is evident. As we drove back to downtown Tacloban from Panalog, Pol pointed out children on the street who looked undernourished. "Many times parents can't find the firewood to cook food or they're too busy trying to rebuild their homes. These feedings act as a food supplement for the kids."
During my time with Pol, he also emphasized the importance of the shelter projects within the relief effort. He drove me through the San Jose district, swept his arm across the expanse of tents and said, "these people were promised housing by June and most of them are still in the tents they were given right after the storm." According to Pol, the tents have a life span of six months. May 8 marked the six month anniversary of the typhoon and yet thousands of families continue to call these tents home.
As my final days in Tacloban come to a close, I can't help but revisit the importance of finding these people stable homes. Otherwise, thousands of families will be using broken down tents during the wet season, which starts in June.
To support All Hands Volunteers' shelter project to build temporary and long-term housing for families displaced by Typhoon Yolanda, please visit my fundraising page.
(note from the editor: You can catch up with all of Ariel's blogs from the Philippines these past three months on AsAmNews.