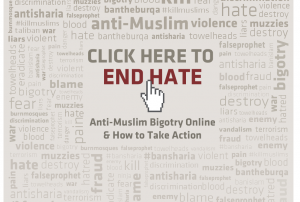 A new study out from the Muslim American Civil Liberties Coalition  says there are more than 11,500 websites online devoted to hate speech, reports the The Nation.
The goal of the report is to give people a way to respond to this hateful speech.
"We have repeatedly heard from community members about their concern about how hate speech spreads online," Madihha Ahussain, the lead author of the report says. "But they don't know how to respond or what tools are available to them through Internet platforms to try to counter the hate that is online."
The first amendment makes finding an appropriate response to these sites difficult, but MACLC says silence is definitely not acceptable.
"Hate speech online has consequences for people's real lives. We need to talk about it in a way that allows people to respond using more speech, counter speech."
Responses can range from promoting positive portrayals of Muslim Americans to engaging those who engage in hate speech and making them accountable. Much of this counter speech can be conducted in the same forums where it is being propagated, such as Facebook & Twitter.
People are also urged to report hate speech to the internet companies like Facebook, Twitter and You Tube where this is being spread.
You can read about some specific examples of this in The Nation and in the report itself from Muslim American Civil Liberties Coalition .