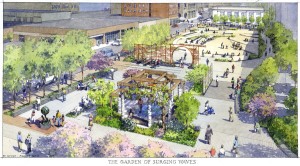 A new public garden in the Southern Oregon town of Astoria pays homage to the Chinese Americans who helped build the coastal town, reports the Daily Astorian
Astoria's Garden of Surging Waves is a reminder of a painful past.
"In the 19th and early 20th centuries, Americans commonly regarded Chinese immigrant workers as nonpersons. The Pacific Northwest was a particular danger zone for residents identified as Chinese," reads the column in the Astorian which does not have a byline.
You can read more about the history of the Chinese in Astoria, along with more information on the garden in the Daily Astorian.