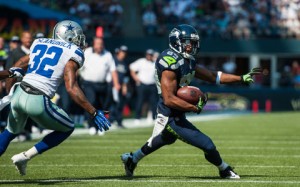 Seattle Seahawk wide receiver Doug Baldwin, fresh off a solid game at the Super Bowl for the champion Seahawks, says he won't hold out despite not getting a contract extension, reports ESPN.
That's great news for Seahawk fans. The Filipino American receiver who averaged more than 15 yards a reception last year in 50 catches and 5 touchdowns.
"I like to go against the grain," said Baldwin. "I don't like to do things that other people might do. That's just not me. I feel like there's a better way of handling things and doing so in a professional manner, as well. I'm going to play this season, regardless whether it's under the tender or an extension. If we're unable to work it out, then I'll sign the tender and become an unrestricted free agent next year."
You can read more on his thoughts and whether analysts think he is giving up his leverage by making this announcement on ESPN.