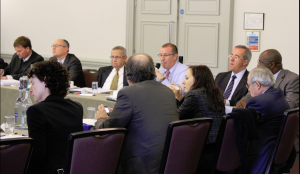 Do you have a look of a leader (photo by International Hydropower Association)?
Before you answer that, one must ask yourself what a leader looks like.
Or the better question is why are we asking such a question?
Asian Americans make up nearly six percent of the US population, but just 2.6 percent of the positions in the corporate board rooms.
WAMC recently talked to two Asian Americans leaders about the bamboo ceiling.
"There is I think a baked-in kind of assumption of what leaders are supposed to look like, what leaders are supposed to act like," said Linda Akutagawa, president of LEAP, Leadership Education for Asian Pacifics. "And when it's different, then people sometimes have a hard time seeing beyond that and it really takes someone who can look beyond that."
Breaking these assumptions about leadership qualities gets harder the higher up the food chain one gets in a company.
"The further you go up within an organizational structure, the more white and male, the less minority and female those organizations almost all become." said Wesley Yang who's written extensively on this issue. "And to me, it's really a matter of, like, small daily transactions that exact a toll on women and minorities; that we produce a power structure without there being sort of like an overt intention to keep women and minorities out."
You can read the entire transcript of this interview on this subject on WAMC.