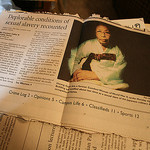 The Japan Times reports a comfort women memorial will soon be unveiled in a Washington, DC. suburb (photo from The Geo).
It's the latest memorial in the United States to help raise public awareness to the women forced to work as prostitutes by the Japanese Imperial Army during World War II.
The memorials have raised controversy by some in Japan and in America who question the validity of the claims by the comfort women and say the dispute is between Japan and Korea and shouldn't be debated in the United States.
The latest memorial will be at a public facility in Fairfax County, Virginia–home to a large Korean American population.
You can read more about the memorial in the Japan Times.