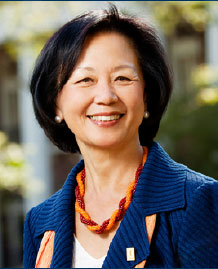 As even President Obama has found out, positions of power and some say even privilege don't protect you from racism.
Phyllis Wise (pictured) who is president of the University of Illinois certainly found that out when she made the unpopular decision to keep the campus open during extreme winter weather in January.
A social media storm followed filled with both racist and sexist comments directed at Wise.
The The Daily Illini reports that lead to a greater discussion about diversity both on and off campus.
Five months after the incident, that discussion continues.
"What came out of the incident is an awareness of the campus in terms of 'Eek, we're still here,'" said Kaamilyah Abdullah-Span, senior associate director of the Office of Diversity, Equity and Access. "I think there were some members of the community who thought that kind of stuff would never happen at the University of Illinois because we're so diverse. But the reality is that it does."
But it wasn't just Asian Americans who were both hurt and offended, members of other groups felt the impact of the racism and sexism as well.
"The surprising note for some people was that people in other groups — students who are Latino/Latina-American, African-American and international students — all came forward and said, 'Yeah, we were hurt by it too. And, in fact, we encounter these things all the time, where students, either because they don't understand they're getting into sensitive areas or because they deliberately want to hurt us, are engaging in this kind of thing, and it's just not publicized,'" Benson said.
The University is now setting out to increase the cultural competence of students on campus to bridge the divide some people feel. You can read about those efforts and the continuing impact of the snow day incident in the .