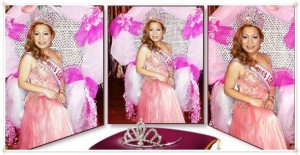 For the first time, a transgender person will ride atop a float in the Philippine Independence Day Parade in New York, reports GMA (photo from Facebook).
"Am I dreaming ? Is this for real? I still can't believe I'm one of the beauty queens on a float at the (June 1) Philippine Independence Day parade on Madison Avenue in Manhattan… Thank You Lord for making this happen! Mabuhay ang PIDCI!"   Chelle wrote on Facebook.
The former pre-school teacher is now a health care worker and says it will be an honor to represent the transgender community.
"All that gay people, including trans women, want is to gain acceptance in the society and to be treated equally just like any other person," said Chelle.
You can read about her decision to become transgender woman and some of the other celebrities scheduled to take part in the parade in GMA.
(An earlier version of this story incorrectly used the word transgender as a noun. We apologize for the error).