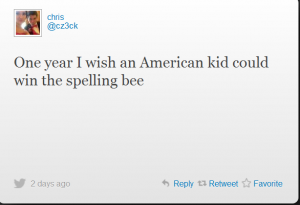 The National Spelling Bee wasn't even over with, but to many uneducated racists on social media, it was.
The already thin list of white competitors to make the finals had dwindled to zero. Social media lit up with complaints that there were no Americans left in the competition. Apparently the many Indian Americans left in the Bee and the two eventual Indian America co-champs aren't considered Americans to these people.
A blog in the American Bazaar from Sujeet Rajan suggests the answer to these racist Tweets and posts is to outlaw them.
Rajan's idea is to publicly expose these people with the scarlet letter "R" for racist. He suggests setting up a public registry similar to the sex offender registry.
What's next? Should we also prohibit these people from living within five miles of a school, church, mosque or synagogue?
The only real answer to racism is education. Diversity and inclusion need to be taught in our schools through our history and civic classes, the literature students  are assigned in English classes and from the pulpits of our churches, mosques, temples and synagogues.
Short term answers like public floggings may make someone feel better for a moment, but only with long term solutions can we ultimately we feel good about each other.