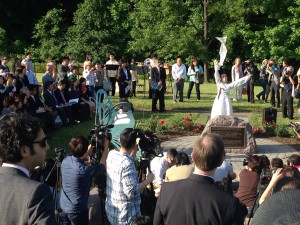 Yet another Comfort Women memorial has gone up in the United States, reports the Washington Post (photo from Fairfax County, VA Facebook page).
A dedication ceremony was held Friday night at the Fairfax County Government Center in Virginia, not far from the Nation's Capitol.
Similar memorials have gone up in Palisades Park, New Jersey; the Bergen County Courthouse in Hackensack, New Jersey and in Glendale, CA.
It's a sign of the growing influence of Korean Americans, especially in areas where they are concentrated.
They hope to bring attention to a relatively little known chapter in world history– the sexual enslavement of Korean and other women by the Imperial Army of Japan during World War II.
"It was a war crime that happened a long time ago that not many people know about, yet it happened, much like the Holocaust happened," said Herndon Town Council member Grace Han Wolf.
The memorials have angered Japan and some Japanese Americans here in the United States.
In the days leading up to the Fairfax County unveiling, local authorities were bombarded with emails urging them to call the whole thing off.
"We wish you will stop revealing such a stupid memorial on 30 May," read an e-mail.
You can read more about both sides of this controversy in the Washington Post.