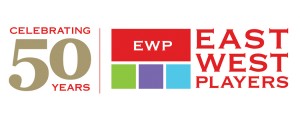 The nation's longest professional theater of color in the country and largest organization of Asian American artistic work has just unveiled the line up for its 50th season.
 East West Players is celebrating with an extended two year golden anniversary season which begins this fall and runs until the summer of 2016. It's actual 50th birthday is June 26,2015.
"We are proud to offer eight innovative and inspiring productions to celebrate our Golden Anniversary," said Tim Dang, East West Players' Producing Artistic Director.  "We're excited to choose a season that will be absolutely global, a season that dares to be different, a season like you've never experienced at any other theater in the US because we are leading the charge to encourage diversity for all theaters to open up their storytelling and include the stories of the world in which we live. The future is here. This is the next chapter of East West Players."
The season opens September 4 with Animals Out of Paper by Rajiv Joseph. It's a story of an origami artist , a teenage prodigy and his school teacher.  The artist discovers that life and love can't be folded neatly in this drama about finding the perfect design. It's by the author of the broadway hit, Bengal Tiger at the Baghdad Zoo.
The season closes with the classic La Cage Aux Folles. It follows George, the suave owner of a glitzy drag club on the French Riviera. La Cage open May 12, 2016.
You can find out about the entire season from East West Players.