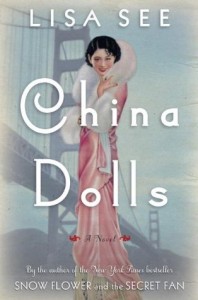 The world of Chinese fan dancers, singers and comedians is the backdrop for Lisa See's new book, China Dolls, which is due out Tuesday from Random House, reports the OC Register.
See follows the same formula her fans have come to expect–fiction based on history.
"Sometimes I'm taking the real stories from real people and include my imagination, and I throw it all in a blender and see what comes out," said the author of Dreams of Joy, Shanghai Girls and Snow Flower and the Secret Fan.
China Dolls takes us inside the world of the Chinatown nightclubs that thrived primarily in the 30's and 40's. Clubs such as Forbidden City, the China Doll, Club Shanghai and the Chinese Sky Room. To prepare she interviewed many of the performers who are now in their 90s.
"I wanted to capture their stories," said See, 59. "With men or women, they really broke the mold of what was considered traditional, and what a Chinese man or woman could do. Back then, there were all these stereotypes: Chinese can't dance, they don't have a sense of humor. In the case of women, who had been raised traditionally, they weren't supposed to show their arms and legs in public."
You can read more about See's preparation for this book in the OC Register.