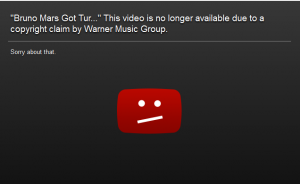 Warner Bros moved quickly into damage control following an incident at a Bruno Mars concert in Oakland last week.
 NBC Bay Area reports a You Tube video of Mars forcibly asking a woman to come on stage not once, but twice has been taken down after Warner Bros filed a copyright complaint.
Other videos from the same concert on You Tube remain.
"Get your ass to the front of the stage, girl!" Mars said to the woman.
"Did you see us at the Super Bowl, what?!?", a surprised Mars said.   He also hurled a four-letter expletive at her.