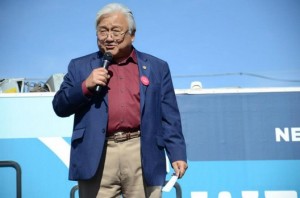 In one of the more closely watched races in the country, 7 time incumbent Mike Honda handily defeated challenger Ro Khanna 49 to 27 percent in California's 17th Congressional district in San Jose.
 But the real race will be in the November general election as the two Democrats advance under California's unique open primary system.
 Khanna has positioned himself as the candidate for Silicon Valley. The tech entrepreneur has the financial backing of such tech heavyweights as Yahoo's Marissa Mayer and Facebook's Sheryl Sandberg (an earlier version incorrectly stated that Mark Zuckerberg had endorsed Khanna).
  Honda, a progressive Democrat, is endorsed by President Barack Obama, Democratic Leader Nancy Pelosi and labor.
  The real battle in November will be for the 17 percent of the voters who backed Vanila Singh and the 7 percent who voted for Joel VanLandingham.
 Khanna would have to pick up all those votes as well as retain his own to overcome the huge deficit. But Khanna will point to his huge campaign chest and technologically advanced political organization as reasons why he can remain optimistic. His campaign is managed by many of those who ran President Obama's campaign.
 Khanna spoke to a room full of supporters last night.
You can watch the clip below from KPIX TV.