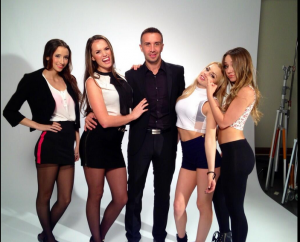 An Indian American student at Duke who stirred up lots of attention when it became known she was working her way through school as a porn actress isn't letting the controversy slow her down, reports the American Bazaar.
Miriam Weeks known by her porn name Belle Knox has signed on to be one of the judges of the new web show, The Sex Factor. Knox is the women in the photo to the left with her fellow Sex Factor judges Keiran Lee, Tori Black, Lexi Bell and Remy LeCroix.
16 men and women will compete for the chance to appear in a porn video with Knox. Knox says being a porn actress empowers her as a feminist. This weekend she tweeted her complaint that assertive women were seen as bitches but men were seen as bosses.
You can read more about her latest adventures in the American Bazaar.