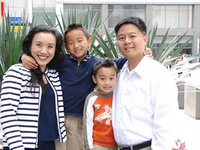 Freshman Representative Ami Bera easily advanced to the general election in the 7th Congressional district race in suburban Sacramento, reports the Sacramento Bee.
He'll face Republican Doug Ose, a three time Congressional rep and wealthy land developer.
Republicans are expected to pour lots of money into this race and Bera is a Democrat they have targeted for defeat.
Last night Bera easily beat Ose 47 to 27 percent.
The real race in the primary was who would place second to face Bera in November. Ose outdistanced fellow Republicans Igor Birman(17%) and Elizabeth Emken (7%).
In Southern California, in the race to succeed retiring Congressman Henry Waxman, State Senator Ted Lieu placed second to advance to the general election against Republican Elan Carr.
Carr beat Lieu last night 21 to 19 percent.
Lieu talked to KCAL about his hopes for the future.