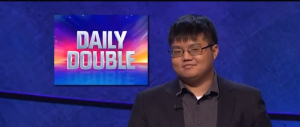 11 time Jeopardy champ Arthur Chu is extending his 15 minutes of fame, reports Ozy.
Chu played the part of the Asian villain on the popular game show when he embarked on a successful strategy that riled long time viewers of the program.
Chu didn't follow the unwritten rules by going in the order the answers were placed on the board.
Instead, he seemingly haphazardly jumped all over the board to shake up his opponents and seek out the Daily Doubles.
Now he's riling up readers with his in your face blogs on such controversial topics on homophobia, racism and sexism from the point of view of "the nerd."
Two of his five blogs for The Daily Beast have already gone viral. And as he did on Jeopardy, his goal is to win, not make friends.
There's a time and place for the gentle and empathetic approach," says Chu, "And a time when you need to be slapped in the face and confronted."
You can read about some of the topics Chu has tackled in Ozy.