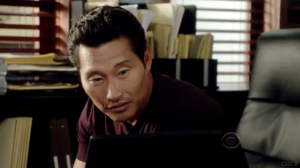 It's always good to see a brother getting the exposure he deserves.
 Variety reports that Daniel Dae Kim has been cast in the next Divergent move.
The actor of Lost and Hawaii Five-0 fame will play Jack Kang, the representative for Candor, the faction of honesty.
For those who need to catch up on the book and movie, Divergent is set in the post-apocalyptic world where the citizens are defined by their association with five factions.
The book came out in 2011 and the movie just last month.
The next movie in the series will be The Divergent Series: Insurgent. It will star Shailene Woodley and Theo James.
You can read more about plans for the movie version of Divergent in Variety.